Today, my son is finishing up his
first year of college
.  He'll be going to one last class, saying goodbye to his roommate and friends for the summer, covering up holes in his wall with toothpaste, and stuffing a pile of dirty clothes into a duffel bag before turning in his keys and leaving campus behind.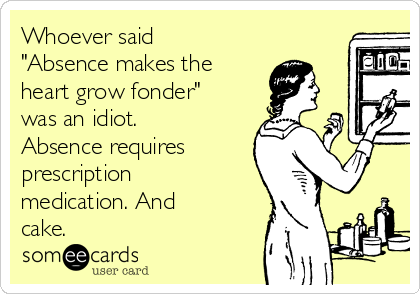 He will do all of this on his own, just like he experienced all the rest of freshman year for himself. Thinking back*, I don't think I appreciated how much of a gift this independence was for me. How foundational having the space to misbehave and strive and goof off and win and fall down and lose sleep and connect and love and eat poorly and bond and learn and type and cheer and drink and run and get naked and question and write and be me would be.  It was, I think, one of the most important periods of my life.  My parents had no part in it. None.
That is as it should be.  But I kinda wish
my mom
was around now so I could tell her I get it. Long distance relationships are tough.  Long distance motherhood is brutal.
And then, just to make it that much worse, the first birthday away from home comes around.
Yep. Today is his 19th birthday. He's there. I'm here.
Deep breath. Text. Call. Bake.
Tomorrow, he'll be here.  Tomorrow, we'll have cake.